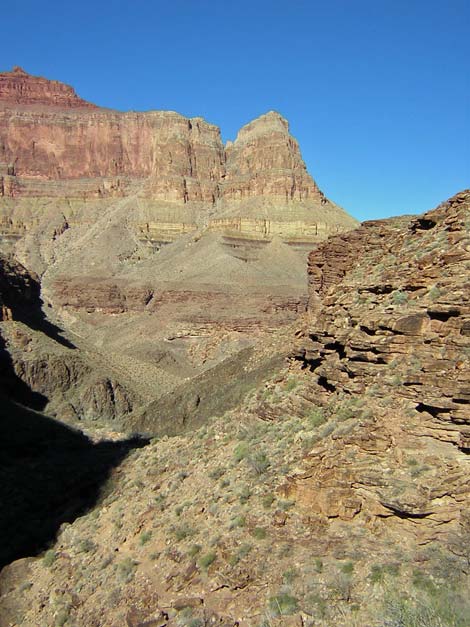 Trail along rocky hillside below Tapeats cliffs (view northwest).
Overview
This description of the Tonto West Trail is divided into two parts: (1) an overview of the entire trail, trailheads, and other general information, and (2) individual canyon-to-canyon segments.
From the Tonto-Boucher trail junction, it is about 0.3 miles and 0.25 hours to the camping area on Boucher Creek. Water is available in Boucher Creek. This segment of the trail winds down a steep side canyon and drops steeply through the Tapeats Sandstone to Boucher Creek. The trail is slow and rocky, but it is short and rewards the hiker with a cool creek and the remains of old-man Boucher's cabin. Boucher Creek is in Backcountry Use Zone BN9.
Link to map of this segment.
Watch Out
Other than the standard warnings about hiking in the desert, ...be sure to read the Watch Out section on the Tonto West Overview page, which discusses things such as cell phones and signal mirrors. While hiking, please respect the land and the other people out there, and please try to Leave No Trace of your passage.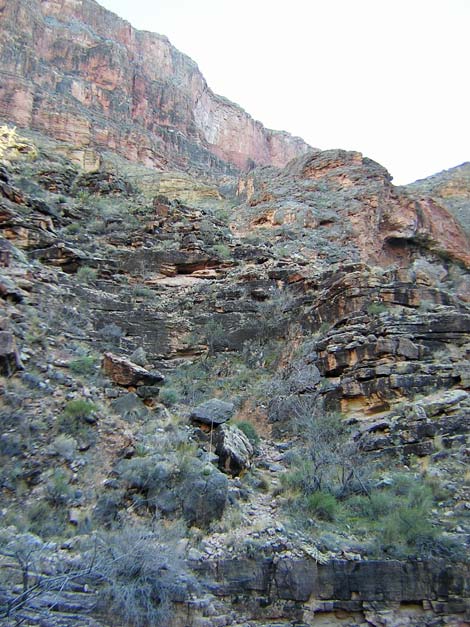 Trail through Tapeats cliffs (view east).
Getting to the Trailhead
Trailhead information is presented on the Tonto West Overview page.
The Hike
9. Boucher Trail Junction to Boucher Creek -- 0.3 miles and 0.25 hours
From the Tonto-Boucher Trail junction (Table 9, Waypoint 032), the trail runs south and steeply down along the east side of a ravine until reaching the edge of the Tapeats cliffs overlooking the side canyon. The trail then switchbacks very steeply down through the Tapeats cliffs. There are many loose rocks and several short, steep switchbacks, and parts of the trail runs right on the edge of the cliffs where old stone and woodwork holds up part of the trail. It is hard to believe that old-man Boucher and his mules routinely made this trek.

Boucher Canyon (view northwest).
The trail drops below the cliffs, runs west down the side canyon to the Boucher Creek camping area on the edge of Boucher Creek (Wpt. 033). The trail enters the camp area just south of and below the remains of Mr. Boucher's cabin, which makes the cabin hard to see from this direction.
The camping area is nice, but there is no shade other than that provided by catclaw acacia "trees." There are no developments or food storage boxes in the camp area, only flat tent spaces of differing sizes. Although camping here is at large, it makes sense to stay in the main camp area. In the rain, a large alcove on the north wall of the canyon above the camping area serves as a passable rain shelter.