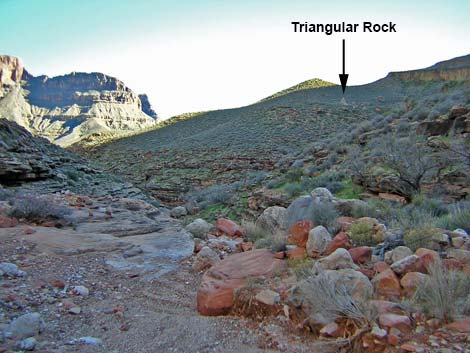 Jasper Wash; the route east runs past the triangular rock (view southeast).
Overview
This description of the Tonto West Trail is divided into two parts: (1) an overview of the entire trail, trailheads, and other general information, and (2) individual canyon-to-canyon segments.
From the wash in Jasper Canyon, it is about 1.2 miles and 0.75 hours to the wash in Jade Canyon. Water is not available on this segment. This short segment runs out of Jasper Canyon, over a saddle, and back into Jade Canyon. The trail is always faint, but it is fairly easy to follow. This segment is in Backcountry Use Zone BP9 (at-large camping).
Link to map of this segment.
Watch Out
Other than the standard warnings about hiking in the desert, ...be sure to read the Watch Out section on the Tonto West Overview page, which discusses things such as cell phones and signal mirrors. While hiking, please respect the land and the other people out there, and please try to Leave No Trace of your passage.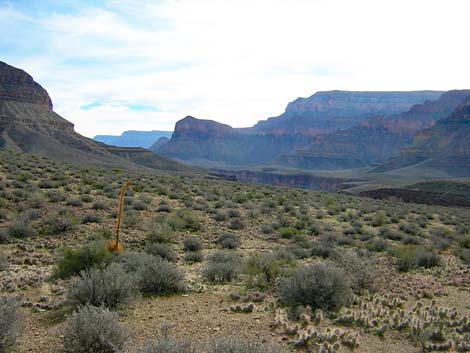 Faint trail on saddle between Jasper and Jade Canyons (view northeast).
Getting to the Trailhead
Trailhead information is presented on the Tonto West Overview page.
The Hike
15. Jasper Canyon to Jade Canyon -- 1.2 miles and 0.75 hours
From the wash crossing in Jasper Canyon (Table 15, Waypoint 087), the trail west cuts up the bank in the middle of a band of cliffs and climbs steeply up the rocky hillside. After a brief bit on the contour, the trail cuts very steeply up the hillside to a ridge with large boulders and cairns. The trail continues climbing all the way up to the flats (Wpt. 088) before heading out of the canyon.
Above the steep part, the trail is fairly easy to follow as it runs across a rocky hillside above Jasper Canyon. The trail turns up into a side canyon with two horns.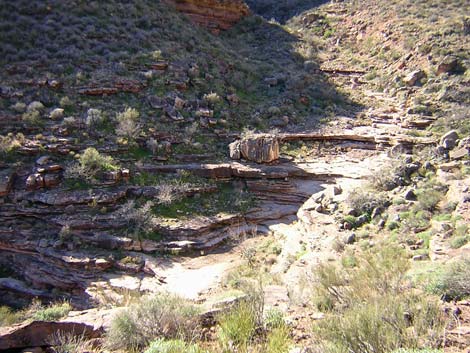 Jade Wash (view southwest).
After passing the second horn above a little pour-over by an enormous boulder, the trail climbs gently across cactus-covered flats to a saddle (Wpt. 089) where the trail turns out of the Jasper Canyon drainage system. There are marginal camps on the saddle. The trail across the flats is faint, and the cactus is thick, but the place is spectacular.
From the saddle (Wpt. 089), the trail runs northwest across flats to a gully, then drops fairly steeply across a hillside and down the gully to pass a cliffy section, then cuts out across the hillside atop another cliffy section and angles back into the canyon. The trail drops gently through broken cliffs and rocky areas to cross Jade Wash on a slickrock pour-over (Wpt. 090). The crossing is marked by an enormous banded boulder sitting atop the slickrock.
Other than the slickrock, there are no campsite opportunities at the crossing.