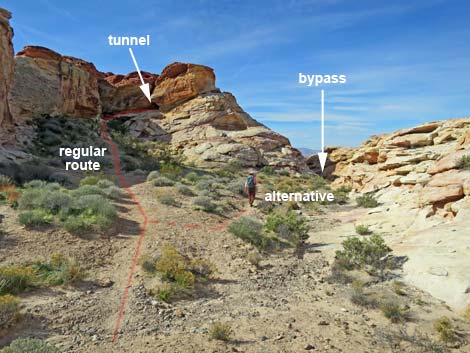 Hiker detouring right on alternative route to the Falling Man site
Overview
The Falling Man Rock Art Site is a fascinating petroglyph gallery that has seen many visitors over the years, but some visitors can't or don't want to crawl through the tunnel and shinny along the narrow ledges before and after the tunnel. Fortunately, there is an alternative to see the Falling Man petroglyph, but this still is not "fully accessible."
From the end of the old road, the regular trail continues southwest towards the tunnel. Approaching the "tunnel" crag, a use-trail angles off to the right and runs into a short, narrow canyon at the base of the crag. After passing a low pour-over, the canyon opens onto an overlook above broad open area. From the overlook, the Falling Man petroglyphs visible high on the wall to the left.
Angling to the left, hikers can make their way down below the overlook and over to the Falling Man petroglyph.
Link to hiking map.