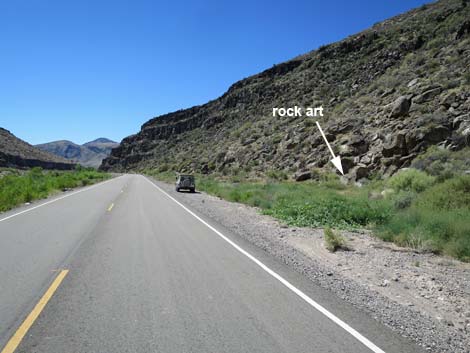 Trailhead parking (view S)
Overview
Rainbow Canyon Rock Art Site #4, the Petroglyph Boulder Site, sits in a volcanic area of desert canyons and cliffs along Meadow Valley Wash where water flows all year in places.
Water and habitation sites brought ancient peoples to this area starting about 10,000 years ago. Several cultures have come and gone, including nomadic hunter-gathers and ancient farmers. It is easy to understand why they came, but one always wonders: with so many boulders, why did these early people pick only this one to write their message? Was this spot special? Did something important happen here? Whatever the reason for "here," the message certainly is complex.
The BLM and Lincoln County opened this area to the public, and Lincoln County printed a brochure about the site (including GPS coordinates) as part of their Get Primitive tourism campaign. Download the brochure from Lincoln County or snatch a copy here.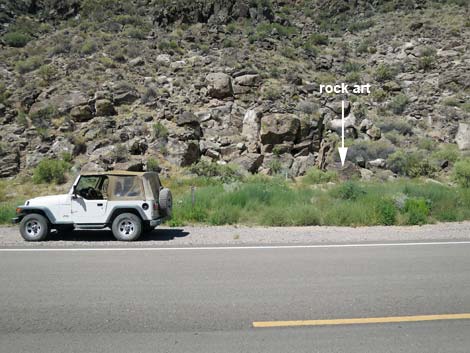 Trailhead parking and rock art site (view W)
Getting to the Trailhead
The Rainbow Canyon Rock Art Sites are located just south of Caliente (Lincoln County) about 150 miles (2-1/2 hours) north of Las Vegas on Highway 93.
From town, drive north on Interstate 15 to US Highway 93. Exit onto Highway 93 and drive north past Alamo and Ash Springs to the intersection of Highway 93 and Highway 318. Continue on Highway 93 for about 128 miles to Caliente.
On the west edge of Caliente, turn right onto Highway 317 and drive south for 19.6 miles to Rainbow Canyon Rock Art Site #4. Park on the wide shoulder on the right (west) side of the road.
The Hike
From the trailhead parking, the route (no established trail) runs to the closest boulders on the side of the road. This is the Petroglyph Boulder Site (Table 1, Waypoint Site#4-01).