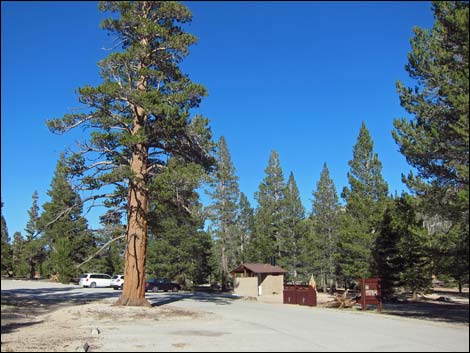 Horseshoe Meadow Campground
Day 1.
Las Vegas to Lone Pine and Horseshoe Meadow.
Liz and I loaded the van and drove to Lone Pine where we arrived early and picked up my permit at the Eastern Sierra Visitor Center.
From there we drove into Lone Pine for one last ice cream cone and then headed up to Horseshoe Meadow. Unfortunately I still had the GPS set to allow dirt roads, and the darned thing led us off into the hinterlands on a road that didn't actually go through. After we got turned around, we enjoyed grand views east across the Owens Valley as we drove the steep and scenic, but paved, road.
In camp at Horseshoe Meadow, we spent the remainder of the day lounging, photographing birds, and taking short walks as we acclimated to the 10,000 foot elevation. Coming straight up from home, we definitely felt the effects of the low oxygen levels up here in the mountains.