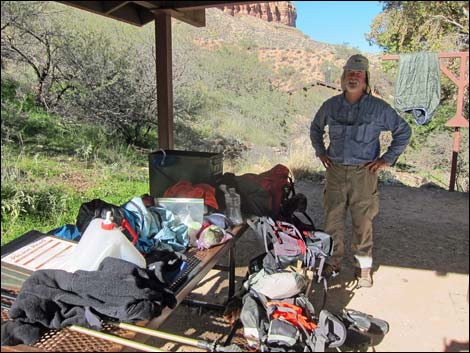 Indian Garden Campground
Backpack Day 5. Friday -- Indian Garden
This was another lay-over day, so we enjoyed sleeping in and eating a slow breakfast (hot oatmeal) with an extra cup of coffee.
Our adventure for the day as a 1.5-mile hike over gently rolling terrain to Plateau Point, the impossibly high cliff were we had seen dot-sized people the day before. It was a nice walk out over the Tonto Platform, and it gave Liz a good example of the terrain I'd traversed during several long, solo winter backpacking trips a decade ago. It is hard to believe the way time flies, but it was nice to be back on the Tonto.
We relaxed in the sun out on the point where the smooth rock allowed us to take off our boots and walk about freely. The 360-degree views were grand with the North and South rims standing tall above us and the Colorado River far below. It was even fun to look down on dot-people along the trail where we had been the day before. Right at our feet, the stone recorded the passing of Cambrian-era creatures as they scurried around on what as a muddy ocean bottom.
Link to Map.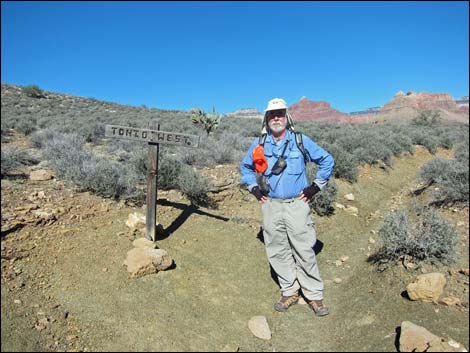 Jim with fond memories of long days on the Tonto West Trail
We spent about 1-1/2 hours on the sunny point, and during that time, we mostly had the site to ourselves. Day hikers from the South Rim occasionally interrupted our silence, but we had a chance to meet trail runners from Austria, a pair of elegantly dressed hikers from Spain, a lone hiker from Holland (where he says the land is entirely flat), and even one American kid from Iowa.
Hiking back to camp, we enjoyed the last of the sun for the day and dipped back into the winter shadows. In camp, we busied ourselves getting ready for the long hike out tomorrow, relaxed, ate too much so we wouldn't have to carry it out, and listened to the owls again.