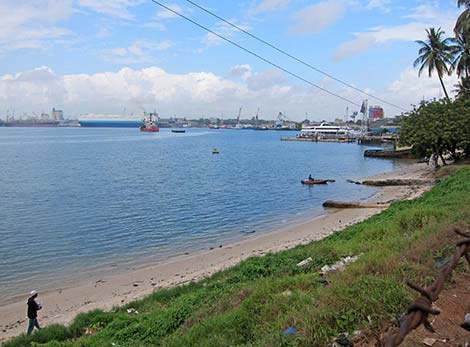 Dar es Salaam Harbor
Day 20. Thursday, July 26. Dar es Salaam, TZ.
Day 13 in Tanzania. Link to trip map.
We both slept unusually well last night. Not sure why, but comfortable beds, good security, hot showers, and air conditioning certainly helped.
We took a short walk from the hotel to see the sights, smells, and sounds of downtown Dar. We walked a few blocks to the Askari Monument, the central hub of Dar es Salaam (but not the geographic center), which commemorates African veterans of WWI. We then walked out to the waterfront and looped back to the hotel. Surprisingly, there were no, none, zero birds in the harbor -- how could that be? Well, actually there was one, a Pied Kingfisher, but that just proves the point. Where are the gulls and cormorants?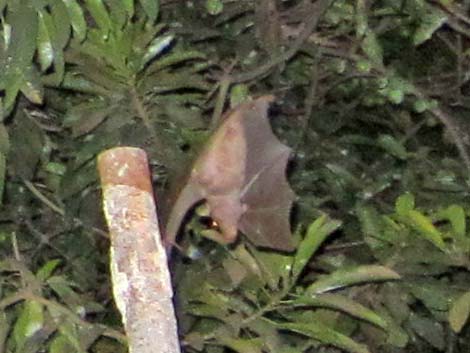 Flying fox with 24- to 30-inch wingspan
Cathy left to review documents at the University of Dar es Salaam library. I still have a good case of "traveler's trots," an air conditioned hotel room, and a fast internet connection -- which provide a perfect combination for staying indoors and working on the website.
When Cathy came back, we went out to an Indian restaurant. It turns out they didn't open until about 30 minutes after we arrived, a fact apparently well known to the local trinket sellers. We looked a bit, walked a couple of blocks, and wandered back. Cathy gave in a bought a trio of bracelets. Dinner was good, but I think my stomach has shrunk, and for perhaps the first time in my life, I left the table with food on my plate and beer in my glass (to think of the starving children in Africa!). After dinner, we ran the gauntlet again, Cathy bought a few small things, and we stopped at a tree next to the hotel to photograph flying foxes. There were lots, but it was hard to catch them in the flash.