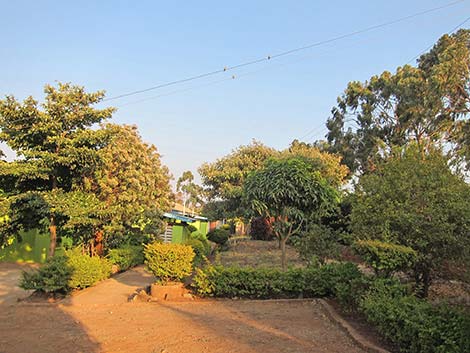 Summit hotel with Mosque Swallows on the wires

Day 18. Tuesday, July 24. Katesh, TZ, to Arusha, TZ.
Day 11 in Tanzania.
Travel from Katesh to Babati and Arusha by private vehicle. Cathy conducts interviews in a farming region north of Babati. Stay in Le Jacaranda Hotel in Arusha.
The day dawned windy with clouds on the northern horizon, but by sunrise, the sky was clear and the wind subsided to a nice breeze. I was up before dawn working on the computer, but the early calls of the Red-winged Starlings and Speckled Pigeons got me out early. It looks to be another good day starting.
Link to trip map.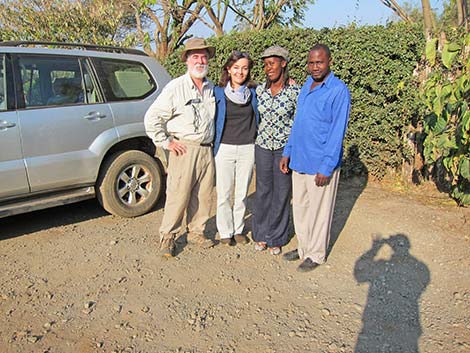 Jim, Cathy, Lydia, and Tano: traveling partners
We closed out the possibilities in Katesh early and headed for Babati, which was only 1 hour away on the newly paved road. We continued north, then headed west into the Kiru Valley at the base of the escarpment (west edge of the Great Rift Valley) to a farming community that recently has been the scene of land troubles, so Cathy was very interested in talking with local officials in that area.
While Cathy and Lydia were busy, Tano and I went birding and per usual, found some wild things, including a lizard much like a whiptail from home. Unfortunately, we got no photos. Some of the birds we saw include lots of Little Bee-eaters, African Golden Oriole, Slate-coloured Boubou, African Grey Flycatcher, and Spotted Morning-thrush.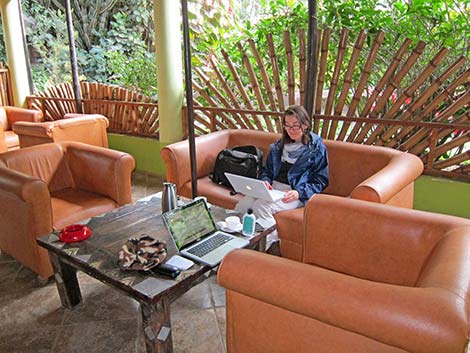 End of the day at Le Jacaranda
The drive north to Arusha was uneventful, which is just as well given that everyone is tired. I did see a Trumpeter Hornbill and a Common Buzzard, and Cathy saw Crested Cranes.
In Arusha, the downtown traffic was intense, but Tano handled it well and deposited us safely at Le Jacaranda Hotel. It is evening now, and I updated the blog, but then the internet went down. Ill have to console myself listening to the evening calls of the Common Bulbul.