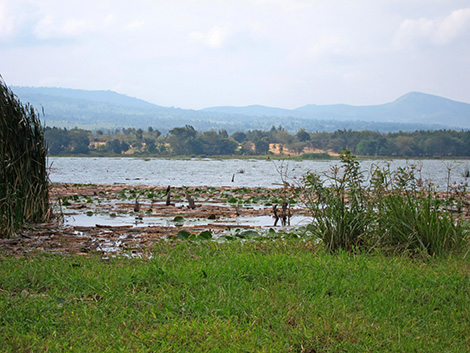 Lake Babati with hippo-grazed grass
Day 11. Tuesday, July 17. Babati, TZ.
Day 4 in Tanzania.
Cathy and Lydia spent the day out conducting research. The professor did not arrive.
I spent an amazing morning out with a local guide (Mbazi) birding the north and northwest sides of Lake Babati. We saw too many amazing birds to list them all, but Barbets, Kingfishers, Long-tailed Cormorants, and Bee-eaters are on the list!
Link to trip map.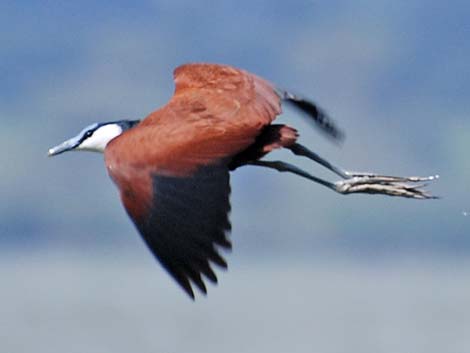 African Jacana (Actophilornis africana) with toes!
After lunch, I spent an hour in an internet cafe listening to loud African Rap music while updating the travel blog. When I was finished, I wanted to take a photo of the store front (below), but I had to wait for a herd of cattle to move down the dirt street before I could step outside for the photo. Africa displays an interesting mix of traditional ways of life mixed with modern influences. The Mololo Media Services Internet Cafe illustrates this well: pastoral people moving a herd of cattle along dirt streets in downtown Babati past an internet cafe.
In the afternoon, Mbazi and I birded the east side of Lake Babati. African Fish-eagles and Augur Buzzards were the highlight there. We were joined by an odd, talkative man. We couldn't quite shake free of him, and eventually Mbazi decided it would be better to go into the woods with a friend than to go alone and find an enemy. In the end, payment for his guide services cost me an extra $2000 Tzs (about $1.25 US). In the end, it was a long day, with Mbazi and I walking about 15 miles.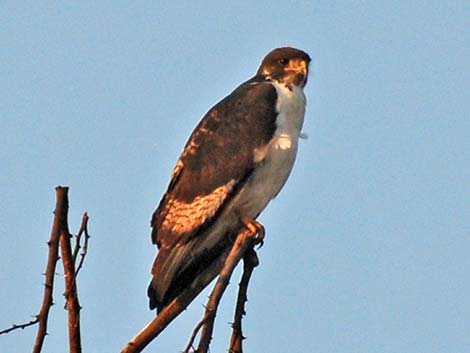 Evening light on Augur Buzzard (Buteo augur)
Just at dusk, Cathy, Lydia, Tano, and I drove over to the Royal Beach Hotel on the northeast edge of Lake Babati to look for hippos. Lake Babati is the only Hippopotamus Reserve in Tanzania. A couple of years ago (into the late 2000s), there were as many as 400 hippos in the lake, but their numbers are down recently, and local think that many have migrated elsewhere.
The hippos that remain move around the lake on a regular daily trek. During daytime, they go to the far side where they find relief from human disturbance, but at night, they come to the city-side of the lake to graze on grasses along the lakeshore. At dusk, they can be seen from the shore as they pass the hotel heading for the feeding areas. We must have arrived too late, because even though I used my new 150-lumen Dorcy high-tech LED flashlight to light up the far side of the lake, we saw no hippos, not even eyeshine.