At long last, our flight to Africa!
Day 07. Friday, July 13. London, England to Nairobi, Kenya.
We got up and out of the hotel early, figuring we would sort out last-minute problems at the airport and still be early. Fortunately, everything went smoothly, except that I left my cheap wristwatch in a scanner bucket at security. We crossed our fingers and checked the bags to Tanzania.
We departed London more-or-less on-time at 1045 hrs for an 8-hr flight to Nairobi, Kenya. We didn't get window seats, but we got the very back of the plane with an isle, so it was easy to get up and go to the window in the door. Getting up also facilitated stretching our legs during the flight.
Link to trip map.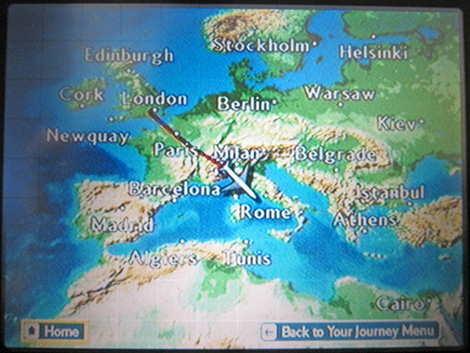 In-flight seat-back GPS monitor of our flight
As we took off, London and all of France were clouded over, so we saw none of the ground during that part of the flight. Fortunately, British Airways has seat-back TV screens, and one option is to display a GPS map of the flight in progress. Watching the monitor, we headed southeast from London and quickly crossed the English Channel. We passed just south of Paris and crossed out of Europe at Savona on the Mediterranean Coast.
Soon the skies cleared, and we could see the west coast of Italy. We paralleled the coast and got nice views of the country, although we were too far offshore to see much detail. We crossed the tip of the boot of Italy and headed out across the Mediterranean Sea with mostly sunny skies.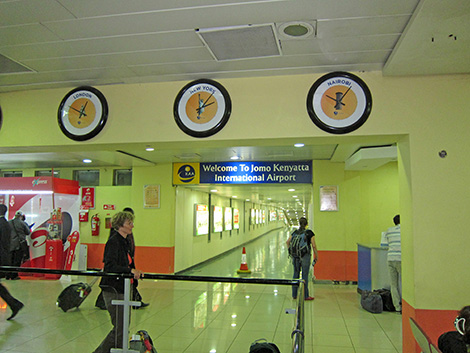 On the ground in Kenya - finally made it to Africa!
Before long, we could see the North Coast of Africa, and we crossed onto the African Continent with a good view of Benghazi, Libya. For such an important city during the recent war, it seemed like a very small and isolated place. Flying south across the Sahara, sand and rocky mountains were sparsely intermixed with human habitation.
Unfortunately, most of the Sahara Desert was obscured by clouds, and as we crossed the Nile River, clouds and the setting sun conspired to erase our view. In the night, not too surprisingly, it was completely dark on the ground -- not a single light anywhere over most of Africa.
On the ground in Kenya, the airport is very busy and we will spend the night here in the airport. We did not need to go through customs, which was nice to avoid. A long night here, then off to northern Tanzania at 0900 hrs tomorrow.