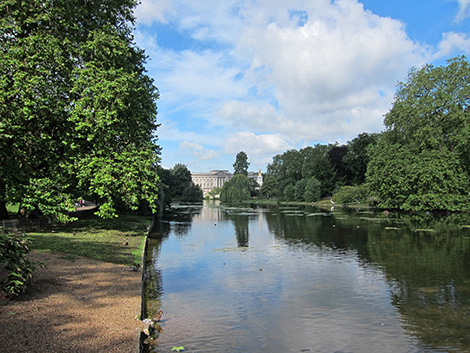 St. James Park; Buckingham Palace in far distance
Day 06. Thursday, July 12. London, England.
Day 2 in London, our only full day here.
The days dawn early here: 0430 hrs in the hotel room, and the early-morning light lingers for a long time before the sun comes up. I've been up awhile now, but Cathy is still sleeping (it is just now sunrise). The day promises to be a bright and sunny.
Link to trip map.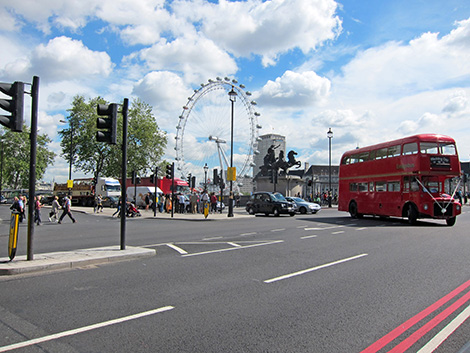 London Eye and double-decker bus
We skipped breakfast and rode the "tube" (subway) to downtown London. For a subway, it was interesting that most of the tracks run above ground. Along parts of the tracks, red foxes take up residence in spots seldom visited by on-foot humans.
We got off at St. James Park, which is right in front of Buckingham Palace. The park is an historical open area with ponds, trees, and flower gardens. Several species of ducks and geese, plus 3 pelicans, Great-crested Grebes, and lots of pigeons live in and around the pond. They even have a large population of Eastern Gray Squirrels imported from the States that have become pests and driven the local squirrels to extinction in London.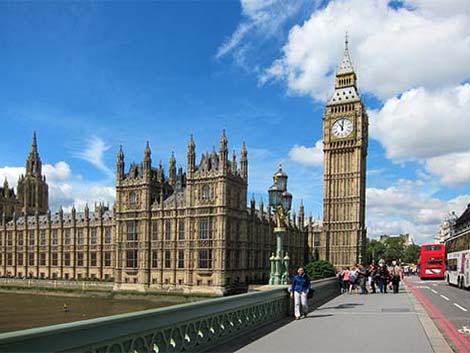 Cathy with Parliament Building and Big Ben
We walked around the park, stopped in front of Buckingham Palace, and then headed towards Big Ben and the Parliament Building on the banks of the Thames River. We visited a small church (St. Margaret's, free) adjacent to Westminster Abby (where entry cost about $30 per person). We crossed the Thames and walked around town a bit, stopping in a nice park to rest our feet and watch the school kids eating lunch. For us, we stopped for lunch at the Three Stags Pub (for me: fish and chips costing about 10 pounds; about $17 yikes!).
After lunch, we wandered back, took another loop about St. James Park, and rode the tube back to the hotel, arriving in the rain at about 4 PM. We had hoped to walk about the county park again, but the cold rain dampened our enthusiasm.
We ate dinner in the hotel again, not wanting to venture out into the weather, then headed off to bed before another early morning departure.