Day 03. Monday, July 09. Austin, TX, to London, England.
I spent a relaxing day in Austin getting things together and repacking the gear. Cathy finished packing and getting her family ready for the long absence. We departed the house about 1600 hrs anticipating a good three hours to check-in, navigate security, and get to the gate. I was subjected to extra pat-downs and hand swabs, but they decided to let me into the airport.
We picked up a brisket sandwich at the Salt Lick and settled in for an hour. Unfortunately, thunderstorms around the nation delayed the arrival of our plane (from Tampa), and when it arrived, they shut down the entire airport because of heavy rain and an approaching thunderstorm.
Link to trip map.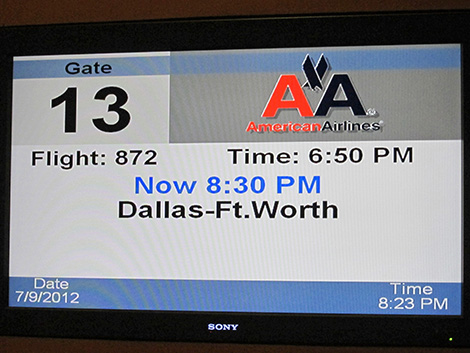 As the time ticked away, we took up front-row seats looking out over the empty runways as rain pounded down and lightning lit up the evening sky. They say they are holding our connecting flight in Dallas, as there are about 15 people here hoping to catch the last fight today to London, but as the lightning continues to crash about, hope fades -- unless of course, Dallas is shut down too.
It turns out they never hold international flights, so the talk of holding our London connection was a lie to pacify the anxious crowd. Of course, that just intensified the anger when we got to Dallas and descended on the unsuspecting gate agent there.
... Stranded in Dallas ... Trip set back 24 hours. Spend night in hotel near airport. Rescheduled on flight out of Dallas to London on 5:30 PM tomorrow evening.