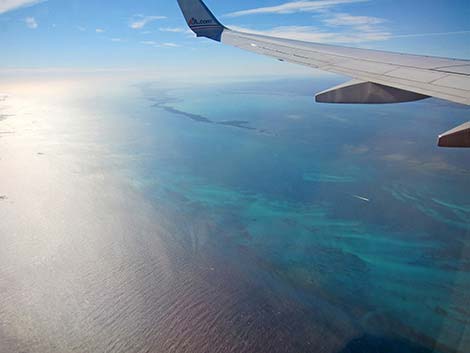 January 15. Montego Bay to Miami.
After a relaxing breakfast, Matt took Liz and I to the airport. Again we survived customs and immigration, although not intact after the Appleton gift shop, and made the gate with time to relax. The flight back to Miami was scenic and uneventful, and re-entry into the States was fast and easy. After being surrounded by so much Jamaican Ganja (marijuana) smoke (not by our group), I was concerned that the drug dogs might give us trouble, but no such luck.
Back on the ground, we picked up our car and headed west into Everglades National Park. We arrived at Shark Valley in time to see alligators basking on the edge of the trail (catching nothing more than the last of the evening sun) while wading birds returned to their roost for the night. The sunset was full of Wood Storks, Great Egrets, Snowy Egrets, Roseate Spoonbills, Little Blue Herons, Tricolored Heron, and White Ibis.