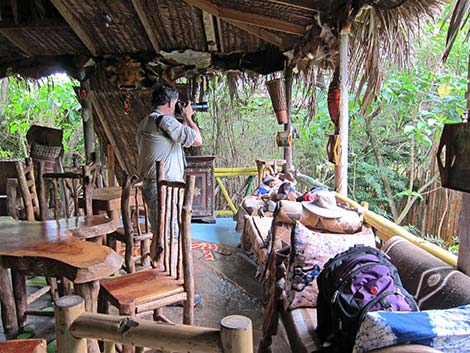 Birding from the dining room at Great Huts
January 09. Boston Bay.
We got up in the dark and hit the road heading for the John Crow Mountains. We arrived at dawn, just as the White-throated Thrushes began calling. We walked the old road, finding birds such as Jamaican Blackbirds (the rarest of the endemic species), Jamaican Orioles, Jamaican Crows, Arrow-headed Warblers, Black-billed Parrots, and Yellow-billed Parrots.
During mid-day, some of us went to town to do some banking and get smoothies. It was hard translating currency because on the street, 1 dollar J is about 1 cent US; but at the ATM, 1 dollar J = 1 dollar US (actually 1.00 J cost about 1.20 US). Thus, on the street, a hotdog combo with fries and a drink cost $250 (or about $3 US).
In the afternoon, we drove back to the John Crow Mountains and visited Reich Falls (aka Reach Falls). Some of us swam in the falls, while others found Jamaican Todys, Rufous-tailed Flycatchers, Black-billed Streamertails, Orangequits, and a Louisiana Waterthrush.