Home | Postcards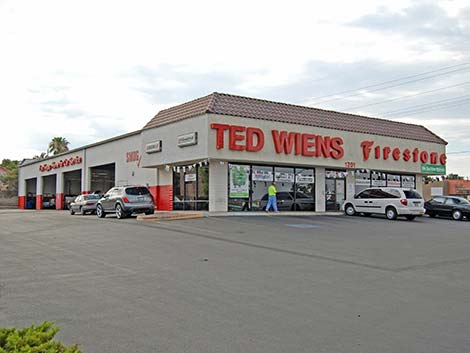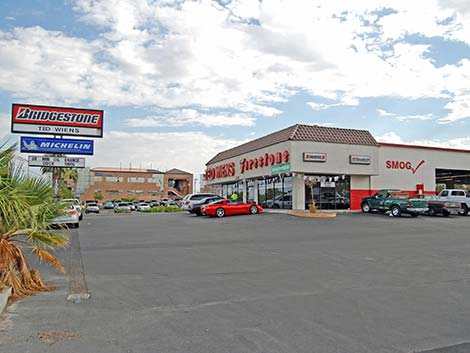 Stay Away!
Stay Safe!
Don't get ripped off!
STAY AWAY FROM TED WIENS TIRE AND AUTO CENTERS!
Especially stay away from the shop on S. Rainbow Blvd, Las Vegas, NV 89146
They ripped me off with lousy service, charged me to try to fix their shoddy work,
and then I had to take it elsewhere and pay more to actually get it fixed.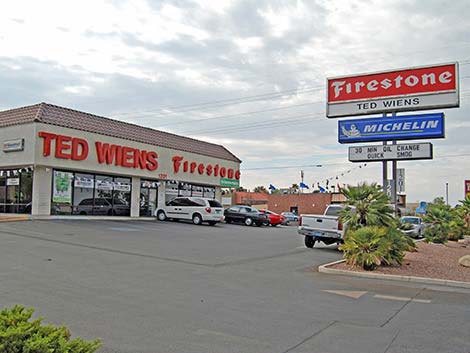 I've taken my vehicles to Ted Wiens Tire and Auto Center at 1201 S. Rainbow Blvd, Las Vegas, NV 89146, for auto service, auto repair, tire repair, oil changes, tune ups, and other work for almost 14 years, but over the last 2 years or so, the level of service and quality of work have gone down while the prices and over charges seem to have gone up. We used to feel that they were honest and competent, but now we feel we are being jerked around and over charged. My wife especially feels that they talk down to her and take advantage of her because she is a woman.
In our most recent experience (Feb-July, 2008), we took the truck to Ted Wiens because it suddenly started running poorly (as if on 3 of 4 cylinders). They replaced the battery, air filter, spark plugs, did a tune up, replaced two fuel injectors, and other stuff, then called to say it was fixed and ready to pick up. After paying $1200, they announced that in fact, the truck was not fixed, and we should come back later. When we returned they had replaced the coil and some ignition parts, and wanted another $400.
The truck still ran badly (especially at idle), plus we smelled gas in the cab of the truck, so we took it back saying that they had not fixed the original problem, plus the fuel smell was new. They worked on it again, replacing the other two fuel injectors ("oh yeah, we found a broken gasket this time"), and charged us another $750.
The truck ran better, but not well, and the smell of raw fuel was not only evident when we were starting up the truck, but faintly all the time. Thus, the charges for the battery, air filter, spark plugs, and tune up were unnecessary over charges because they did not affect the root cause of the problem.
I had to take the truck to work out of state, and the fuel smell got so bad that I took it to another repair center. They found that one of the "new" fuel injectors had been installed improperly and gas was leaking out around it, a bolt on the fuel manifold was broken and gas was leaking from there too, plus a cover was missing from the throttle housing. They repaired the truck for another $630. The truck now runs almost like new and the smell of gas is gone. The out-of-state shop recommended other work, plus recommended that I get Ted Wiens to cover the cost of their work because it should have been unnecessary.
When I got home, I met the "store" manager at Ted Wiens about covering the costs. I thought that Ted Wiens should repay the $750 charge to fix their first effort, plus repay the $630 for the work done out-of-state. Their response was that they do good work and are not responsible for the extra charges.
Needless to say, I will never go back to Ted Wiens, and I recommend that everyone here in Las Vegas stay away too.
Several months after I put this page up, I was contacted by the new store manager. He wanted me to take down the page, but didn't specifically say "take it down," asking rather what the company could do to make me happy (and presumably take down the webpage). I said they should cover my extra charges. He asked me to fax him all of my paperwork, which I did. He looked into the case and agreed that the repairs were done incorrectly and that Ted Wiens would cover my extra costs. He had to clear it with his management, but he would get me covered. Of course, that was the last I ever heard from him or the company.
I've gotten a surprising number of emails about this webpage, but these stand out:
Note from a website visitor (June, 2017):
Those rats at Ted Wiens. I spit on them. 1000x. They wanted to charge me $3500 to fix my Lexus. The shit they come up with. Its criminal.
Note from a website visitor (July 29, 2014):
I took my 2000 Dodge Durango down to 7770 W. Cheyenne in March to have my car serviced. During that time I was told that I needed a transmission flush, along with other work. I was told that my transmission fluid was dirty and was due to be changed. Seeing as I am not proficient with car terms, I believed that this work was necessary and authorized them to do a transmission flush. Last Thursday, June 17th, my car started to stall, and act as if there was a problem with I suspected my fuel pump. I had my car towed back to the same location and it was "diagnosed" on Friday, the 18th. I received a call at 7am asking me why my car was there. I told him that I suspected that my fuel pump had gone out and that I needed my car looked at. Around 11:30 that same morning, they called back, sarcastically, and told me they had good news and bad news. I asked for the bad news and he said that they knew what was wrong with my car. I asked what the good news was and he said the same thing. He then proceeded to tell me that they drove my car around the block and pulled the transmission dip stick and that the transmission fluid was "burnt" and that my car needed a new transmission. I called my Dad, who I asked to speak to the garage since he had more knowledge on the subject than I do, and when he asked if they had done any other diagnostic, including dropping the pan, he was told no, that it would cost another $100 dollars, after already charging me $100 to look at the car. They didn't, to my knowledge, look at anything else on my car. My Dad asked them to push my car out and that we would be having it towed to a transmission shop, to have it completely gone over.
I had my car towed to Las Vegas Transmission Shop and after the manager looked over the vehicle, he asked me questions about the servicing. It was determined that Ted Wiens should not have flushed the transmission, because there were signs back in March that there was a transmission problem. I called Firestone Corporate, filed a complaint, and asked them to please help me because the transmission shop showed negligence by Ted Wiens that lead to my transmission failure. Firestone forwarded my complaint to the manager of the store, at which time a manager called me (July 24th) asking what my problem was. He proceeded to talk over me, telling me that he didn't have a lot of knowledge about transmissions and that he would like to call my transmission shop to verify what I was telling him. I then received an email, stating that they were not at fault based on what the garage told them. I then called the transmission shop, who told me that they did inform Ted Wiens that they were negligent because the transmission was showing signs of failure and that doing the flush exacerbated the problem.
As of today, my transmission repair costs are $2,328.71, consisting of a new assembly set, new filter, new band, new fluid, rebuilt torque converter, transmission pump, and bushing kit. This, in mine and the opinion of the repair shop could have been avoided if Ted Wiens had, instead of doing a transmission flush, sent me to a transmission shop to have the worn part replaced. The worn part would have cost me around 300 dollars and not left me without my car for over a week.
Note from a website visitor (July 02, 2014):
About a month ago I came upon a booklet which had a few peelers with free maintenance to my vehicle, so I decided to take my vehicle to Ted Wiens and give them a try. Basically all I needed done was a simple oil change and I allowed them to rotate my tires, I looked them up online first and saw that they opened at 7am so I arrived 15 minutes before to make sure I would have enough time to get this finished before I had to start work.
I went in and had no problems getting my vehicle set up, I selected my oil and permitted them to rotate my tires since it was a free service with the oil change, not a bad deal. I began to wait, and wait, and wait.... and just a reminder I was the first customer in the facility when the doors opened, and after 2 hours of waiting I was called over to the desk where they showed me the laundry list of maintenance they recommended.
I looked over the list and was completely dumbfounded by all of the repairs they wanted to make on my vehicle, and the woman at the counter wanted a swift answer about if I wanted to have all of these extra services done. I suspected she worded herself the way she did so I would unknowingly agree to the $2175 that this bill would have added up to; not including the extra charge for the synthetic blend oil. It took another 45 minutes for my vehicle to be driven out to he lot and I had to approach the woman at the counter "if" my vehicle was done because I allowed 10-15 more minutes to pass assuming she was busy working elsewhere.
I normally get maintenance done on my vehicle at Jiffy Lube, which does services such as shocks/struts, air filters, brake pads, etc., and they have recommended a few things in the past which are reasonably priced, but there is honestly no way that this much wear and tear has been done to my vehicle over the past 4,000 miles.
Recommended maintenance for bushings was $498 for parts and $400 for labor, from my experience it should cost half of that to include both parts and labor. Another was the Cooling system and hoses, which Jiffy Lube did for me the last time I was in for my regular oil change.
Basically I sunk about 3 hours of my morning into a simple oil change and tire rotation that a Pep Boys could have done in 30 minutes, I definitely do not trust these people and I am wary of using my remaining two free oil changes. I believe that I will likely use the last two freebies but I will not be using Ted Wiens for any real services on my vehicle.
Note from a website visitor (June 13, 2014):
I agree with you about Ted Wiens auto center, I had an air conditioner replaced on my car by Pernnelli (they are no longer in business, but were bought out by Ted Wiens). They were suppose to honor the warranty on the poor repair, but they would hem and haw around about the matter that eventually after a year or two I finally gave up. I was out $800. I will never ever give them the time of day. Occasionally a sales person will show up at my home looking to see if I would be interested in their service. Politely I tell them how they fail to honor my warranty and close the door in their face.
Note from a website visitor (May 30, 2014):
[To be fair and complete, I'm including this positive comment too] When I was unemployed last year, Ted Wiens bent over backwards to help me. But then again, I'm a veteran and deserve that level of respect and service. I wish you a good day sir and hope you one day come to your senses.
Note from a website visitor (May 28, 2014):
Sir, Please add this to your blog........and thank you for having the guts to start a site devoted to spreading the truth about these guys! Gotta love Karma! FOR THE LOVE OF GOD, DO NOT BRING YOUR VEHICLE HERE!!!! Staff "forgot" to reinsert a caliper bolt after a routine brake inspection/replacement. Hours later, the brake dropped onto my wheel while driving on the freeway!! Management fixed the issue 3 days later and refused to reimburse my visit or rental car charges I incurred while without a vehicle. On top of that, a company executive (who will remain nameless) personally contacted my place of work and made unfounded allegations about me once informed that I was contacting the Better Business Bureau and my lawyer. This is the only business I've ever been forced to contact the BBB on and the only business I find so negligent, that I'm actually taking the time to write a review about. Do your car a favor, and go to a dealership or a reputable locally owned shop for service. If this post keeps one person from doing business with these amateurs, then I will have done my job.
Note from a website visitor (April 2014):
Add the location on Warm Springs and Eastern to the do-not-go list. I used to service my Subaru there and dealing with them was ridiculous. Recently I had to change a flat tire and couldn't because the jack wouldn't sit where it is supposed to; the pinch welds under my car are smashed flat from Ted Wiens lifting my vehicle improperly. I took pictures of my car on the lift and complained to the manager, but he blew it off and I can't get any kind of response out of anyone at their offices.
Note from a website visitor (August 2013):
John writes: I have been going to what was Firestone and Ted Wiens for years. My wife took one of our cars there a year or so ago for an oil change because our son, who is a technician as they call them now, was out of town. They gave her a whole list of items that would have amounted to hundreds of dollars. We waited for my son to come home since he usually works on the car, and he said none of what they wrote made any sense and was not in need of repair. I don't go there any more needless to say. They are a rip off for sure.
Note from a website visitor (March 2011): The list of ripped-off people continues to grow...
From Marty: Another Ted Wiens horror story. I would appreciate it if you would post this on your webpage so others can read it and avoid being ripped off.
My wife and I first visited the Ted Wiens Auto and Tire Center on Rampart Ave near Flamingo a few days after we arrived in Las Vegas in Feb 2011. We had driven in from the east coast, and needed a front end alignment of our 2006 Scion X-B. The manager at Jiffy Lube had recommended them. Our first visit at Ted Wiens went smoothly.
We didn't have a problem with them until I purchased a 13 year old Mercury Sable with 79,000 miles on it to use as a second car. Since my initial experience with Ted Wiens had been positive, I decided to go back for a wheel alignment for the Mercury. I left the car with them and went for some lunch. About an hour later, the manager phoned me, and said he had my "estimate". I found that surprising since I already knew the price for a wheel alignment. What was this "estimate" that he was talking about? When I returned to the shop, I found out. He said he could not do an alignment for my car because both front wheel bearings and inner tie rod were bad. The price to fix it? $600. But, that wasn't all.
I had also asked him to fix my A/C which was blowing warm air (a real problem in Nevada). He told me it would cost $253 for him to recharge my A/C and to add dye to determine wear the leak was coming from. He said that, depending on the source of the problem, the final cost to repair the A/C could rise as high as $1500.
In addition, he also did a complete diagnostic of my car (which I never asked for) and presented me with a laundry list of mechanical problems which needed attention. The more serious ones were circled in red, while the less serious ones were circled in black. After recovering from my initial shock, I thanked him and decided to go for a second opinion. Something just didn't smell right about this. He charged me $19 for his services (which was surprising low), and I said good-bye.
I stopped at Tire Works a short distance away on Flamingo to see if they would reach the same conclusion about my front end. I didn't tell them about my prior experience with Ted Wiens. I just asked them for a wheel alignment. Well, lo and behold, they had no problem doing a wheel alignment on my Mercury. I asked if they had noticed any play in my front end. They said if there was play they wouldn't have been able to do the alignment. Bingo !! That confirmed my suspicions about Ted Wiens. In addition, Tire Works' price for recharging my A/C was only $169, almost $100 less than Ted Wiens. It was at that point I realized that Ted Wiens had tried to rip me off in every possible way that they could. Fortunately, I have been around the block a few times, so their attempt failed.
This was the most blatant attempt to pad an auto repair bill that I have ever experienced in my 40 years as a car owner. The manager at Ted Wiens tried to take advantage of the fact that I had come in with an older car which I had just purchased, and so I didn't really know the repair history of the vehicle. Under those circumstances, he figured he could sucker me into doing some unnecessary repairs.
I actually went for a third opinion after leaving Tire Works. I found a good mechanic over on Decatur Ave (Decatur Auto Electric), and brought him the car to fix the A/C problem. He said recharging the A/C would cost between $100-150, once again significantly below the $253 that Ted Wiens wanted to charge me. I also asked him to take a look at the front end, to make sure that the alignment that Tire Works gave me will hold. He confirmed that there was no problem with my front end. He said there was some "slight" play in the tie rod, but not enough to require replacement.
So, there you have it. Based on my experience, I would avoid Ted Wiens if you have an older car. You might be OK if you go in there with a newer car because it would be more difficult for them to pad the bill. But, in general, I would say avoid them. There are better choices, such as Tire Works on W. Flamingo near Durango, or Decatur Auto Electric on Decatur Ave near Sahara. Those would be my recommendations.
I've encountered all types of auto mechanics during my 40 years of owning cars. Fortunately, I've been able to find mostly good ones. The bad ones seemed to fall into one of two categories; either they were lousy mechanics and didn't know what they were doing, or they were good mechanics who were dishonest and padded the bills. I don't recall ever encountering an auto repair shop that could fit into both categories simultaneously. Ted Wiens may be the first one to accomplish that feat, based on some of the other comments that I have read around the web.
Note from a website visitor (July 2010):
I found your page and thought I would let you read about my experience with Ted Wiens on Oakey and LV Blvd.
So I finally go to get my Pedders Xa's installed and I chose to go with Ted Wiens Tire and Auto Center located on Oakey and Las Vegas Blvd, here in Las Vegas. By the way, this is a Pedders authorized dealer.
Anyway I take my car in on 07/08/2010 as approximately 8:30 am. I tell the guy I would like my car to sit just a little lower than it currently was and they agreed. Photos below of how it sat with my Lovells drop kit [no photo attached].
They tell me my car will be ready by C.O.B. that same day which was 6:00 pm, and I was fine with that. So go to pick up my car at C.O.B. and it's not ready and Ted Wiens tells me that it will be ready by noon tomorrow. The next day 07/09/2010 I contact Ted Wiens around 1:30 pm and asked what the status of my car was and they tell me its not ready yet. So I wait at home for a phone call all day which I never got. This day was one of the days I have school and I needed my car back. So I have a buddy of mine take me up there right before they close and ask where is my car and they tell me that it was ready an half hour ago. I ask them how come no one contacted me and no one had an answer.
So I go to look at my car and it's at least 2" to 2 1/2" inches higher all around. I ask why my car is higher than when I brought it in, and I'm told that it's the same, because they measured my height before and after. I proceed to tell them that it was not and I wanted it fixed. Ted Wiens employee tells me that they're closed during the weekend.
Monday morning 07/12/2010, I arrive at Ted Wiens at 7:45 am just after they open, and I explain to the manager I want my car they way it was when I dropped it off and he tells me that I would have to pay the full price to have it done, but he would hook me up and throw in the alignment for free. I explain to him that I asked for it to be lowered to a certain height and my requirements were not met and I should not pay to have it done since I've already paid over $500 dollars in the first place. I told him why would I pay you to install a adjustable coilover suspension to raise my car to almost factory height. If I wanted that I would of installed the stock suspension myself. I then told the Ted Wiens manager that I could understand if I had him slam it and I showed up complaining that it was to low and rubbing, then I would expect to pay to have it adjusted, but I was never asked where I wanted it, you took it upon yourselves to decide. So after disagreeing for 20 minutes or so, I take my old suspension and leave. I feel like if I pay someone for a service it should be done the way I want it done. So this is what my car now looks like and I have to pay another $260 to a local shop not on the Pedders dealers list to fix Ted Wiens screw up. These are photos taken of my car after they got a hold of it [no photo attached]. You can obviously see the difference in height.
Note from a website visitor (September 2009):
Hello Jim, I just saw your personal comment about Ted Wiens ... Amen brother! I had been going to that Ted Wiens on Rainbow (& Charleston) for 2 cars and about 20 years! The service was always excellent, honest, reliable and fair when Brenda was the manager. She retired about 3+ years ago and ever since then as 'her' people left and new people came in, the service, the demeanor, the honesty, the fairness has left. I no longer go there either. My last visit sealed that deal. The service manager was a joke. Long story short ... would you risk losing a 20-year loyal client over a $xx power steering flush service? (I don't remember the price, $50-100). I had my power steering system flushed there 6 months prior. And now it was filthy and in need again? C'mon must have been an honest mistake and the service did not happen, but was charged and paid. Just do it, right!? After much discussion, service manager reluctantly said they would provide the service at no charge. Only to later tell/show me that the power steering cap had a crack in it which probably caused the fluid to become dirty so quickly. Again, customer service bitter taste in my mouth. I have not gone back there since.
Keywords: ted wiens, ted wiens tire and auto centers, auto repair, auto service, las vegas, rip off, dishonest, over charge
Note: All distances, elevations, and other facts are approximate.


; Last updated 170624