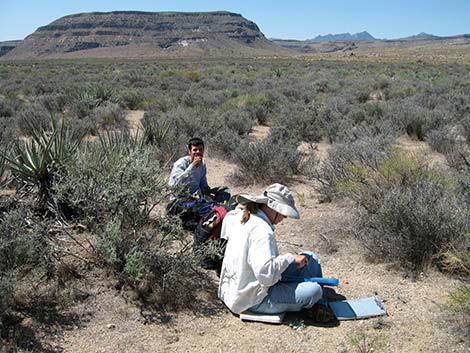 Lunch in an unburned area.
On my 5th week with the USGS, we headed back to Mojave National Preserve. This time we worked near a main road and camped in Mid Hills Campground. We worked in the Upper Mojave Desert Scrub Life Zone at about 4,800 feet elevation, and we camped in the Pinyon Juniper Woodland Life Zone at 5,600 feet elevation.
My boss's boss didn't go again this time, and the three of us had another great time. We worked another unburned area this week, and although the shrub diversity was fairly low compared to last week, I still learned some new shrubs. The snakes are out now, and I caught a big Gopher Snake, but the Coachwhip got away.

Evening hike the burned area.
Monday evening, I went for a long hike (about 5 miles) on the Hole-in-the-Wall to Mid-Hill Trail and got back to camp a little after sunset. The trail went into the burned area, and it was interesting to see the contrast from the last time I hike the trail. I'll update the trail description with new photos that I got this time. A lot of shrubs (sprouting from the base) and a few trees survived the fire, so it isn't like hiking in a wasteland, and there were many spring wildflowers.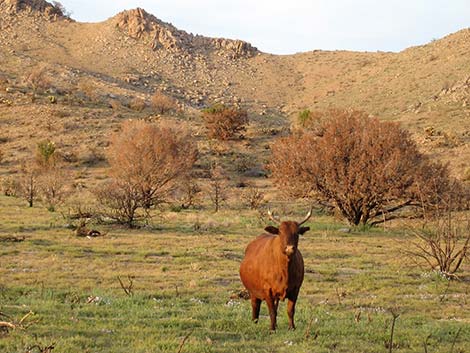 Friend along the trail. I'm glad we aren't counting little green damn-its along here!
On Monday evening, my boss learned that her husband's grandmother had died that day, so we decided to work a long day on Tuesday, and then drive home Tuesday evening so she could go to Utah on Wednesday. They gave me the choice of doing data input in the office for the rest of the week or taking the three days off. Easy choice for me! I used the unpaid overtime from the past four weeks to make up the time.